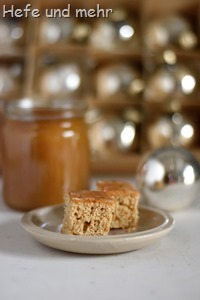 Honey is a stable in our pantry. There is no weekend breakfast without honey for me. Luckily we have some beekeepers in the family, so we are always well provided. Honey is although a delicious part of Christmas Baking, as for Turrón or Pepperkakror. And so I was hooked when I stumbled over a recipe of soft ginger bread in an old christmas cookbook.
and because I read a lot of using rye flour in such cakes lately I decided to modify it a bit and add some rye to the recipe. I tweaked the amount of liquids and spices as well a bit and was then very pleased with the outcome: The ginger bread is soft and fluffy and so delicious that is has to be hidden to survive until Christmas!
Soft Ginger Bread
Dough
125 Sugar
250g honey
175g Malt beer
65g Butter
1 Egg
1/2 Tsp. grounded cardamom
1/2 Tsp. grounded  clove
1 Tsp. grounded cinnamom
1/4 Tsp. grounded Tonka bean
1/2 Tsp. Orange powder
400g flour Type 550
100g rye flour Type 1150
18g baking powder
Glazing
100g glazing sugar
2 El Water
Heat malt beer with sugar, honey and butter until the sugar is completly dissolved. Let cool down to 30°, then add egg and spices and stir until well combine. Now add flour and baking powder and mix until a viscous dough has formed.
Spread on a paper lined baking tray.
Bake at 175°C for 20 min.
In the meantime mix the ingredients for the glazing and spread the still hot ginger bread with it. Cut into cubes after cooling down.
The Ginger bread can be stored in a cookie tin for 1-2 weeks.