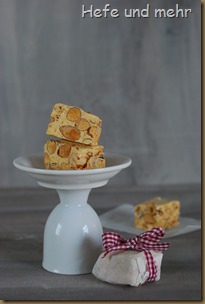 I like white nougat very much. And most I like hart variant, the Turrón Duro. In the last years I tested different recipes but I never found the perfect recipe for me because I always get the soft white nougat.
So I optimized the recipe once more this year and was successful at the end. With more sugar, a little bit of invert sirup and and summer flower honey is the nougat not as white as it could be but it is very delicious and just the way I love my nougat!
White Nougat – Turrón Duro
200g almonds
100g hazelnut
400g sugar
20g Water
150 g honey (summer flower)
50g Invert  sugar syrup (or Acacia honey)
80g egg white (from 2 eggs size L)
1 Pinch Salt
Heat the oven to 180°C and roast almonds on hazelnuts for 20 min.
Oil a baking paper.
Mix water with sugar, honey and invert sugar syrup. Let the sugar melt at low temperature now heat the syrup at high temperature until the syrup reach 150°C. In the meantime whipe the eggwhite to soft peaks. When the syrup reach 150°C slowly pour it into the egg white and whipe for another 5 min until the mixture is light and thick. Now fold in the roasted nuts and pour the mixture on the prepared baking paper. Work fast because the mixture will harden quickly.
Let cool overnight before slicing.