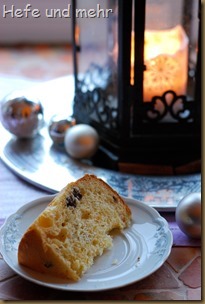 When I bake my Sourdough Pandoro with the special (not sour) sourdough called sweet starter last year I knew already that I would have to make my own Panettone recipe for the following christmas. Similar to the Pandoro recipe I planed to build the dough in some steps so that the yeasts in the sweet starter would get used to sugar and fat which would help to let the dough rise fast. The sweet starter I kept during 2014 alive and baked rather a lot of different breads with him.
On 22. December I refreshed the sweet starter tree times to make him strong and fast rising. He was so strong and fast rising that he only needed two instead if three hours to double his volume when I started the sweet starter for the Panettone at the 23. in the morning. And even the sugar and the butter in the following first and second dough did not slow him down, and tripled its volume in 90 minutes instead of 2 hours. But anyway the third (and last) dough had to take 3 hours for rising because I had to run some errands. Coming home again I formed the Panettone (Susans Tip to grease hands and counter with a lot of butter is really helpful!) and during forming I calculated: I'm now two hours earlier then planned… but it will need about 12 hours at least to proof… and at seven in the morning I'm normally already awake. So there is no problem at all…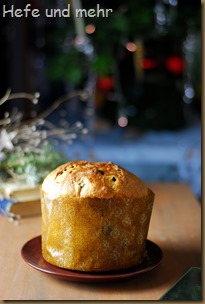 At five o'clock the next morning, on my way to the bathroom, I quickly checked the Panettone in the kitchen. And turned the oven on. Ten hours were what they needed to reach the rim of the form. And who needs sleep?
One hour later the panettone was already hanging between two chairs and I crawled back into bed to have another little nap. Later that day we took some pictures and sliced one cake. And it was so delicious: soft and fluffy, the crumb could be teared into long strands, flavours of orange and vanilla and subtle, but complex notes from the sweet starter. And it keeps fresh for a long time, we eat one with my family on the first christmas day, and had some on second christmas day as well and it still tasted like freshly baked. It is a fussy cake and I could less sleep then normal but it is worth everything! It is the perfect christmas cake!