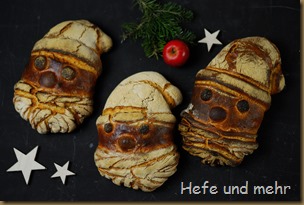 My entry for the christmas party in the lab looked like that: Bread (of course homemade). That was an easy decision. It was more difficult to decide what to bake. We are a very international team and everyone should bring something special from his country. And so I decided to honour the swabian part of my family history and baked pretzels. For the second kind of bread I chose my favourite bread. With this dough you can do every "mischief" you can imagine when forming a bread. And so I decided to bake a Santa Claus bread. I saw similar breads before but I did not like the fact that they were painted with food colouring and the way how they were formed did not fit to my ideas complexly either. But I had my own ideas already…
… and the ideas worked well and the breads turned out to be the most photographed part of the buffet. And one colleague asked me to bake such a bread for christmas eve  for her (what I will love to do).
About the bread itself I can just repeat what I said before: It is delicious crusty with a soft crumb and great flavour.  It is my personal favourite. And that makes it a good candidate for Michas new permanrnt blogevent where she looks for "Undiscovered Blog Buster" (german: Der Unendeckte Blog Buster =DUBB)!