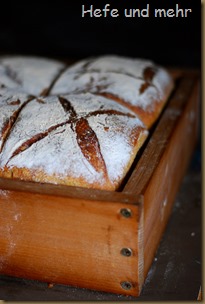 I wished that everyone bake his/her favourite bread for my 5. Blog-Birthday. But as Zorra and Melanie >I had to face the fact that I already blogged about my favourite bread! And to bake it once again seemed a little bit borring to me. And so I decided to do something I was think about for already quite some time: I doubled the amount and baked the bread in the wooden baking frame, similar to the Pumpkin Potatoe Bread I baked for World Bread Day.
Due the isolating capacity of the thick wooden frame and other breads, the loaves develop no crust on its sides, while bottom and top get a thick, aromatic and crisp crust due to the long baking time. The crumb is very soft and light with only small holes, so that the honey will stay on my breakfast bread, too. A perfect every day bread that taste good with sweet spreads and hearty cheese. And due to the different kind of baking it taste really a little bit different to the "normal" bread, the flavour has somehow more depth.
So this is my part for my Blog Event. Whoever wants to submit a bread can do so until 30th November! Readers without blog can participate, too! All informations about the Blogevent you can find here.

Wheat Rye Bread
Pâte fermentée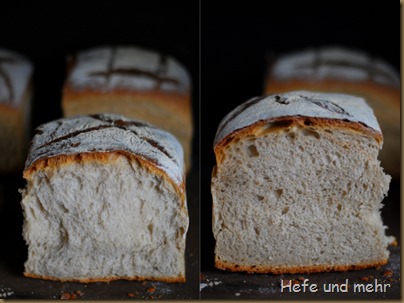 300g flour Type 550
210g Water
6g Salt
2g fresh yeast
Sourdough
200g Water
200g flour Type 550
20g Sourdough
Dough
Sourdough
Pâte fermentée
400g rye flour Type 1150
1100g flour Type 550
875g Water
40g diastaltic Malt (or Honey)
40g Butter
34g Salt
20g fresh yeast
Mix water, flour and starter for the sourdough and ferment for about 12 -16 hours at 25°C.
Mix all ingredients for the Pâte fermentée and proof it for 1 hour at room temperature. Then put the dough into the fridge for 12 hours.
The next morning knead all ingredients 5 min at the slowest speed and 8 min at higher speed until medium gluten development.
Let rise for 1.5 hours.
Divide the dough into four equal pieces and shape them into round loaves. Spread the loaves evenly with oil and place them in an oiled wooden baking frame on a baking tray.
Let them rise for 1.5 hour.
Heat the oven to 250°C. Prior to baking dust the breads with flour and cut the surface crosswise. Place the breads in the oven with steam. Turn the temperature back to 200°C after 10 min and bake the bread for another 80 min.
I sent this entry to Yeastspotting, Susans weekly showcase of yeast baked good.