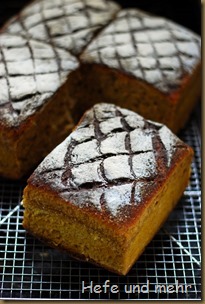 Some time ago my boyfriend built me a beautiful wooden baking frame. The frame is now well burned in, oiled and ready to use. And so I baked last weekend a potato pumpkin bread.
I found a sliced halve of a big butternut pumpkin from last year while I sorted the freezer. To make room for something new, I decided to use it in a bread. I baked the pumpkin side by side with some potatoes in the oven. To bake vegetables in the oven enhances the flavours. The already good flavour of the butternut gets even more intense. And this intense flavour can now be tasted in the bread, too, along with the complex flavour of the sourdough.
A great bread – or better said four – for World Bread Day 2013!
Pumpkin Potato Bread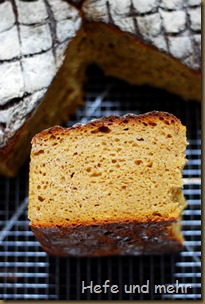 Sourdough
300g flour Type 550
300g Water
60g Sourdough
Teig
1 kg  Butternut pumpkin (yields about600g oven baked pumpkin mash)
600g potatoes (yields about 400g oven baked potato mash)
600g flour Type 550
300g wheat, freshly milled
400g rye flour Type 1050
190g Water
40g Salt
30g fresh yeast
50g inaktive Malt
100g Butter
Mix water, flour and starter for the sourdough and ferment for about 12 -16 hours at 25°C.
Bake potatoes and peeled, sliced pumpkin for 45 min at 180°C.
or the dough knead all ingredients 5 min at the slowest speed and 8 min at higher speed until medium gluten development.
Let rise for 1.5 hours
Divide the dough into four equal pieces and shape them into round loaves. Place the oiled wooden baking frame on a baking tray and lay the four loaves into the frame.
Let them rise for one hour.
Heat the oven to 250°C. Prior to baking dust the breads with flour and cut the surface criss-cross. Place the breads in the oven with steam. Turn the temperature back to 200°C after 10 min and bake the bread for another 80 min.