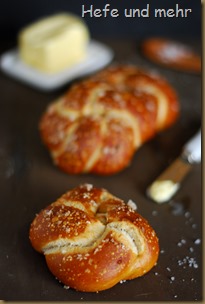 Annette asked at the recipe for Ulmer Spatzen if she could use spelt flour instead of wheat flour for the rolls. I told her that it should be fine to bake the rolls with spelt. Parallel my brain started to work. I was dreaming about pretzels already for quite some time, so baking a spelt pretzel roll sounds great for me.
At the end I made a new recipe, because I decided that I would rather use a pâte fermentée and hot soaker to prevent the pretzel rolls from getting dry, something that can happen easily when baking with spelt flour.
Due to the soaker the rolls has the perfect crumb, dense but soft and not dry at all. A perfect pretzel roll!