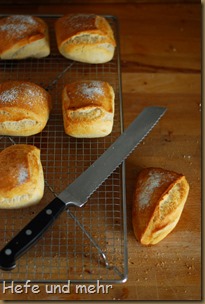 I was thinking about calling this recipe "Fast Breakfast Rolls" But then I realized that my kind of "fast" is not what other people would consider as "fast". Fast means for me: I spent 15 minutes the evening before baking (and even then did my mixer most of the job) and need another 45 min the next morning (including shaping and baking) until I can serve the rolls. The ten to twelve hours the dough needs to rest do not count for me because during that time I normally sleep!
And during I sleep the dough develops a great flavour due to a long and slow fermentation. The little bit of yoghurt enhances the taste as well with it slight tangy flavour, similar to my favourite Yoghurt-Sesame-Rolls. The gentle shaping and short proofing period I saw on Brotdoc and it works very well for this rolls.
Flavourful, crusty and with a soft crumb are they perfect start into the weekend!