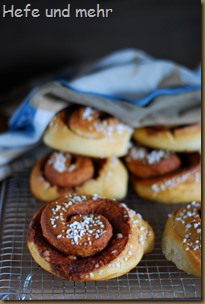 Now we are really in the middle of autumn. It is this kind of autumn that makes you searching for your scarf and cap. This kind of autumn that puts soups and stews on top of your "to cook" list. And this kind of autumn which makes you cuddle up on the couch with a good book and a cup of tea. And if this cup of tea comes with kanelbullar, the Swedish cinnamon roll, then everything is good once again.
Would I tend to use exaggerated titles, I would call this cinnamon rolls "the world bests". But do not and so I will only state: They are the best I bake until now. They have such a soft and fluffy crumb with a strong cinamon flavour, they won me over directly.
For cutting the rolls I used the trick with the dental floss: A dental floss is placed below the log shaped dough and the ends are crossed over the top of it. Pulling the sling together will cut the rolls in a perfectly manner!