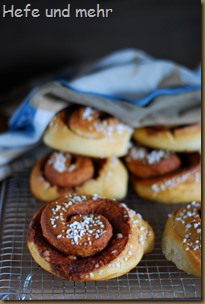 Now we are really in the middle of autumn. It is this kind of autumn that makes you searching for your scarf and cap. This kind of autumn that puts soups and stews on top of your "to cook" list. And this kind of autumn which makes you cuddle up on the couch with a good book and a cup of tea. And if this cup of tea comes with kanelbullar, the Swedish cinnamon roll, then everything is good once again.
Would I tend to use exaggerated titles, I would call this cinnamon rolls "the world bests". But do not and so I will only state: They are the best I bake until now. They have such a soft and fluffy crumb with a strong cinamon flavour, they won me over directly.
For cutting the rolls I used the trick with the dental floss: A dental floss is placed below the log shaped dough and the ends are crossed over the top of it. Pulling the sling together will cut the rolls in a perfectly manner!
Kanelbullar
yields 10 big cinnamon rolls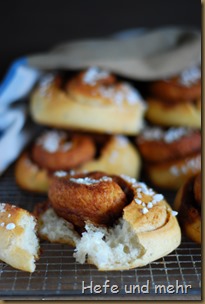 Pâte Fermentée
200g flour Type 550
140g Water
2g fresh yeast
4g Salt
Dough
Pâte Fermentée
250g flour Type 550
50g spelt flour Type 630
100g Water
55g egg (1 egg size M)
10g fresh yeast
2g cardamom, freshly grounded
50g sugar
80g Butter
Filling
100g soft Butter
80g sugar
10g cinnamon
5g flour type 550
Sprinkling
Mix all ingredients for the Pâte fermente and proof it for 1 hour at room temperature. Then put the dough into the fridge for 12 hours.
Knead all ingredients except the butter for 5 min at slow speed. Then knead 8 min at slow speed. At last add the butter all at onc and knead untill the butter is completly incooperated.
Let it rise for one hour.
Mix all ingredients for the filling
Flatten the dough to a rectangle of 35cm x 35cm and spread wit the filling
Roll it rather loosely into a log. Cut in 3.5 cm wide slices, place on a paper lined  baking tray and proof for one hour.
Prior to baking, sprinkle with pearl sugar.
Bake at 180°C for about 40 min.