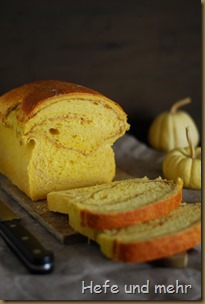 I have a weakness for cinnamon. It does not matter in which way cinnamon is included ínto a yeast dough – kanelfläta, cinnamon waffles or cinnamon rolls – I love them all!
And so I was hooked when I saw a Pumpkin Cinnamon Swirl Bread for the first time. I kept thinking about a recipe for some time. At the beginning I planned to use the dough of my Pumpkin Sandwich Bread but  then decided that this dough would be to soft. And so I came up with a new recipe at the end, with Pâte Fermentée and butternut pumpkin puree and a swirl made of sugar, cinnamon and a little bit flour. The flour in the filling helps to keep the layers of the swirl together. With the same thought in my mind I decided to brushed the dough with water instead of molten butter to stick the filling to the dough.
The bread turned out as great as I hopede: a soft, fluffy crumb, a soft crust and the great taste of cinnamon and pumpkin – I love it!