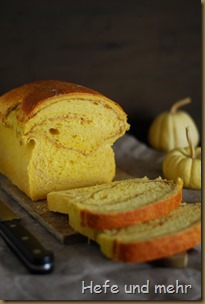 I have a weakness for cinnamon. It does not matter in which way cinnamon is included ínto a yeast dough – kanelfläta, cinnamon waffles or cinnamon rolls – I love them all!
And so I was hooked when I saw a Pumpkin Cinnamon Swirl Bread for the first time. I kept thinking about a recipe for some time. At the beginning I planned to use the dough of my Pumpkin Sandwich Bread but  then decided that this dough would be to soft. And so I came up with a new recipe at the end, with Pâte Fermentée and butternut pumpkin puree and a swirl made of sugar, cinnamon and a little bit flour. The flour in the filling helps to keep the layers of the swirl together. With the same thought in my mind I decided to brushed the dough with water instead of molten butter to stick the filling to the dough.
The bread turned out as great as I hopede: a soft, fluffy crumb, a soft crust and the great taste of cinnamon and pumpkin – I love it!
Pumpkin Cinnamon Swirl Bread
yields 2 Breads
Pâte Fermentée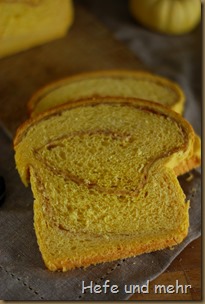 300g flour Type 550
200g Water
3g fresh yeast
6g Salt
Dough
700g flour Type 550
500g Pumpkin puree (Butternut pumpkin, cooked in the microwave and pureed without additional liquid)
50g Milk
15g Salt
20g fresh yeast
70g sugar
150g Butter
Filling
150g sugar
10g cinnamon
10g flour
some water
Mix all ingredients for the Pâte fermente and proof it for 1 hour at room temperature. Then put the dough into the fridge for 12 hours.
Knead all ingredients except the butter for 5 min at slow speed.
The knead 10 min at slow speed. At last add the butter all at once and knead until the butter is completely incooperated.
Proof for one hour.
In the meantime butter two pans (30 cm length) and mix sugar, flour and cinnamon for the filling.
Divide the dough into two equal pieces. Roll each piece into a square of 25 cm x 25cm to remove big air bubbles, roll the square into a log and rest it for 10 min. Roll then the logs into a square of 30cm x 30cm, brush the surface with some water and sprinkle both squares with half of the filling. Roll into a tight log and place the log into the pan.
Proof for 2 hours.
Bake with steam at 175°C for about 50min.
I sent this entry to Yeastspotting, Susans weekly showcase of yeast baked good.