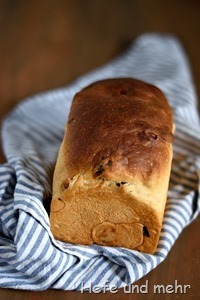 I baked this bread in the last weeks already several times. One time with raisins, one time with dried apricots and walnuts, once just plain. And always when I start to bake a bread repeatedly it is a clear sign  that I have a new favourite.
I like the good balance of the hint of buttermilk sourness and the subtle sweetness of this bread. And if you add raisins or other dried fruits the bread moves a bit more onto the sweet side but is still well balanced. Freshly baked it is one of the breads I eat with just a dab of butter. Is there anything in the world that tastes better then a freshly baked sweet bread with fluffy crumb?
I baked the bread in my new tiny 500g loaf pans. These pans are brand new in my baking pan collection and I already realized that they are perfect for baking such sweet breads or whole grain breads. And it is perfect if you need some small loaves to share with family and friends!