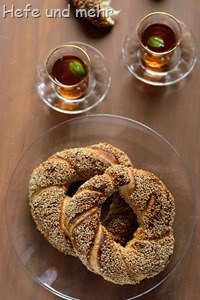 One of the participants of my baking course asked for a recipe for Simit and brought a glass full of Pekmez (Grape molasse) for me, too. And that was all that was needed to get my brain working on this sesame rings.
Some weeks later, when I took a sheet full of Simit from the oven I had a sudden flashback into my childhood. About 20 years ago I regularly took the bus to go to the next town to visit the library. After spending joyful hours between the silent rows of books full of mysteries and stories I carried a armful of books home. And before I would hop into the bus I would make a short stop in the little turkish greengrocery shop located next to the library. There I would buy two simits for 1 DM (this was long before we got the €) and eat them with my nose already in the first book.
The flavour of my fresh baked Simit brought back all this happy memories of summer holidays and dream worlds. But even without this memories the flavour of this sesame rings is great. Sweet and hearty is well balanced here as they are dipped into Pekmez solution before they are turned into sesame. And the preferment (in this variant sweet starter) helps to develop a complex flavour. I'm very much in love with them right now and bake them already several times – something that happen seldom here!
Simit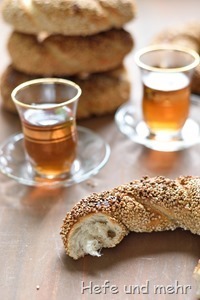 yields 5 Simit
150g sweet Starter
150g flour Type 550
75g Water
Teig
sweet Starter
270g flour Type 550
140g Water
40g oil
10g Salt
7g fresh yeast
30g sugar
Topping
30g Pekmez
15g Water
Sesame (slightly roasted)
Mix the ingredients of the sweet starter and let it rise for 2-4 hours at 30°C.
Knead all ingredients for the dough for 10 min by hand. The dough should be relatively firm and not sticky.
Ferment for 1 hour at room temperature or overnight in the fridge.
Divide the dough into 160g pieces and roll each piece into a strand of 30 cm. Twist the strand around itself and form into a ring (see picture).

Place on a baking linen and proof for one hour.
In the meantime mix Pekmez with water. Turn the rings in the solution and then in sesame. All of the ring should be covered with sesame.
Bake for 18-20 min at 250°C with steam until golden.