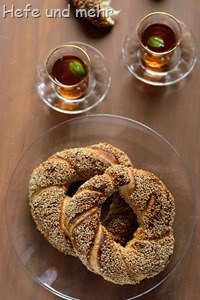 One of the participants of my baking course asked for a recipe for Simit and brought a glass full of Pekmez (Grape molasse) for me, too. And that was all that was needed to get my brain working on this sesame rings.
Some weeks later, when I took a sheet full of Simit from the oven I had a sudden flashback into my childhood. About 20 years ago I regularly took the bus to go to the next town to visit the library. After spending joyful hours between the silent rows of books full of mysteries and stories I carried a armful of books home. And before I would hop into the bus I would make a short stop in the little turkish greengrocery shop located next to the library. There I would buy two simits for 1 DM (this was long before we got the €) and eat them with my nose already in the first book.
The flavour of my fresh baked Simit brought back all this happy memories of summer holidays and dream worlds. But even without this memories the flavour of this sesame rings is great. Sweet and hearty is well balanced here as they are dipped into Pekmez solution before they are turned into sesame. And the preferment (in this variant sweet starter) helps to develop a complex flavour. I'm very much in love with them right now and bake them already several times – something that happen seldom here!