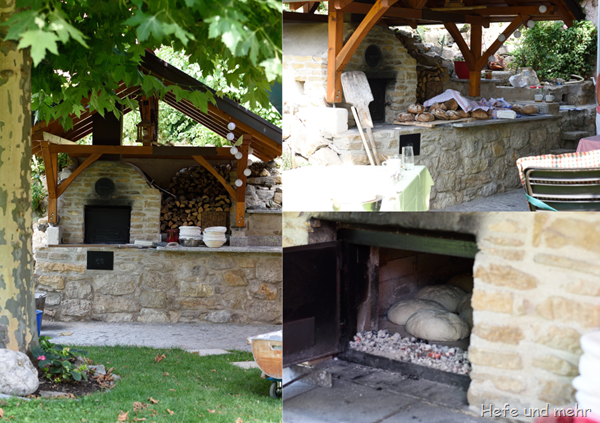 Blazing heat was not on our mind when we planned this baking course in the middle of a snowy winter. We thought about pouring rain and a typical humid cold German summer day and about how to keep everyone save and dry. Instead we had a blue, cloudless sky and more then 30°C . Luckily the wood fired oven in which we planed to bake the breads seated under the branches of a big plane tree. Two additional parasols added enough shade to keep the course participants and me cool. And we had a never ending supply of cold drinks, too!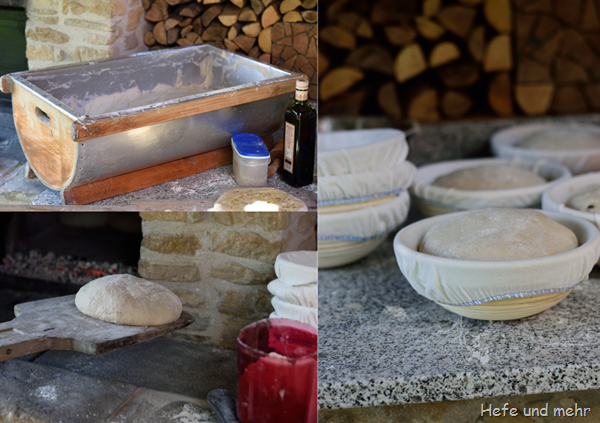 Those temperatures make it necessary to keep a good dough management. Our preferments where made with less yeast then normal and proofed at the coldest available spot: the windowless wood workshop. The doughs where made with less yeast and really cold water and proofing was measured by the readiness of the loaves and not by time. This you should do anyway at anytime (see here) but at summer temperatures it is more necessary then in cold environments. And all this could not prevent us from proofing the first batch a bit to long because the oven needed some more time to cool down. Finding the right point between perfect oven temperature and perfect proofing state is one of the things that makes baking in a wood fired oven such a fascinating thing!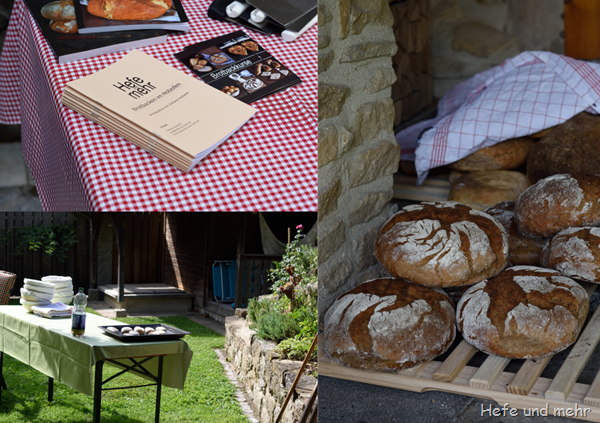 When we reheated the oven for the second batch, the participants and me were even more alerted and this time heat and proofing was as perfect as it should be. And at the end of day we had a heap of 33 Breads and 60 rolls made of 19 kilogram flour in about 6 hours.
Additionally I set up a pizza dough recipe the night before and we baked some pizzas while the oven was still to hot for baking bread. But – as it can happen with many chatting people – some more water was added to the dough as I planned. Adding some psyllium hulls soak up the excess water and helped to stabilize the dough. And as the recipe was not in the recipe brochure I will post it for all of you.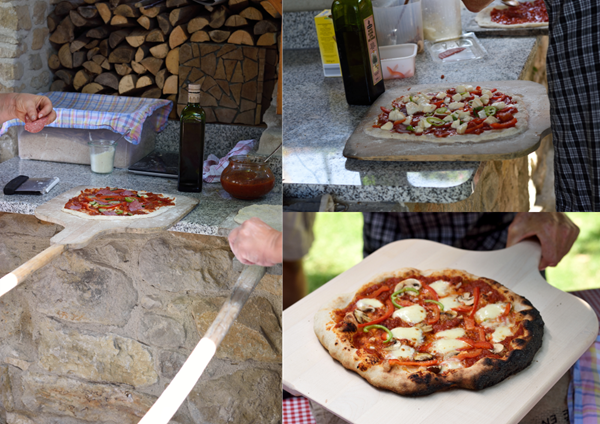 Something important when baking pizza is to proof the round shaped pizza dough proberly before stretching the pizza base. I learned this lesson from an italian pizza baker and since that time forming a pizza is so easy for me. Due to the longer resting periode the gluten network relaxes and more air bubbles form in the crust.
Bamlacher Pizza dough
for 4 round Pizzas
Poolish
150g flour Type 550
150g Water
0,5g fresh yeast (a tiny bit)
Teig
Poolish
350g flour Type 550
200g Water
4g pysilium hulls
10g Salt
10g fresh yeast
10g olive oil
Mix all ingredients for the poolish and ferment it for 12 hour at room temperature.
Knead all ingredients for the dough for 10 min. The dough is a little bit sticky now, but that is ok.
Now place the dough in a good oiled container and ferment for 1.5hours. Give the dough two folds during this time.
Now divide the dough into 4 pieces of 220g each and shape it to balls.
Proof for 60 min.
Stretch the dough into pizzas of 30 cm diameter and top it with everything you like on a pizza.
Bake 2-3min at 450°C (or about 10 min at 250°C).