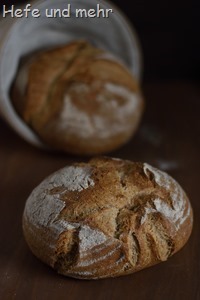 Sometimes it can happen even in a bread loving household: no bread! This happened to me some weeks ago when we had to defrost our freezer and so started to eat our way through all frozen goods. And then – in the middle of my working week – all bread was eaten and only to lonely rolls where left in the freezer. Enough to ensure our breakfast the next morning – but for the rest of the week we needed bread. And so I checked the flour stocks, took out some sweet starter and sourdough from the fridge and kneaded a dough before I went to sleep. The dough rested in the fridge meanwhile.
When I came home after work I formed the bread before I started to cook our dinner. After dinner I put it on the oven and an hour later it was done and set aside to cool. I sliced it only the following morning and was happy: A crust bread with a good amount of whole grain and complex flavour notes due to sourdough and sweet starter.
It is a good example of how to fit baking even in a busy weekday. Having some sourdough or sweet starter (or lievito madre) at hands helps of course to create a aromatic bread. But even without the preferments the bread would taste great due to the long fermenting time. And so there are no excuses  for me to bake a good bread when needed even when I still prefer baking on the weekend.
After Work Bread
yields 2 Breads
100g sweet Starter ( from the fridge, not older then 7 days)
30g sourdough (from the fridge)
540g whole wheat flour
400g flour Type 550
10g psyllium hulls
20g Malt
20g Salt
30g Butter
5g fresh yeast
720g Water
Knead all ingredients 5 min at the slowest speed and 8 min at higher speed until full gluten development.
Let rise over night (18-20 hours).
Divide the dough into two parts. Form to round loaves and place it in the proofing basket seam side down.
Proof for 1 hour, heat the baking stone at 250°C in the meantime.
Place the breads in the oven with steam. Turn the temperature back to 200°C after 10 min and bake the bread for another  45 min