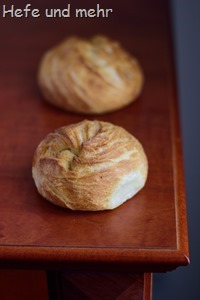 Since I discovered the Kieler Semmel for me, they rank very high on my personal favourite roll list. I love their tender crumb and the crisp buttery-salty crust with the slight hint of cinnamon. And so it was an easy decision what recipe I would bake at my course at the Brotzeit.
But the recipe vary a bit form the two recipes already published on the Blog: this time I use poolish as preferment and I had to use more yeast to compensate the short time window in the course. But I added a variant for more time below.
The dough of this rolls is rather firm and can be formed round easily. After forming the rolls need to be rubbed in a butter mix which works some fat into the seam. This prevents the seam from sticking and so the rolls open nicely in the oven. To get enough butter in the seam needs a bit of practice – and this can only be gained by practice 😉

A short Update for all who wanted to know when my free baking workshops at the Brotzeit will take place:
The course for children takes place from 11:30-12:30 and we will bake "Sweet Turtels" from a sweet braid dough.
The course for adults has the topic "regional rolls" and takes place from 13:30-14:30 .
Half of the slots can be reserved on the market day, the other half can be reserved beforehand by sending a mail to kochschule @ markthalleneun. de .