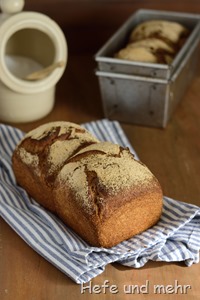 Inspiration is a strange thing: there are phases with only few ideas and then there are phase when my mind is so full that I nearly don't know which bread I should bake first. At the moment I have so many recipe drafts waiting to a test bake. And then comes a new recipe idea from a reader and sometimes I like the idea so much that it overtakes them all.
The description of the Urigs-Brot was such a case. A moist bread with fine crumb and mild sourdough flavour, baked in a pan with the seam side up. I was hooked and started to draft the recipe immediately. As I prefer to bake with local grains and flours instead of importing it from all corners of the world, I had to change from "Ruchmehl" to Flour type 1150. With some physillium husks for more moisture and two different sourdoughs and a cold rise in the fridge for a deep, complex flavour.
And when I took the first bite of the fresh baked bread I was in love. It is as moist and flavourful as I planed with a fine crumb and crisp crust. And as in each pan two small breads are baked together it is a perfect bread to share it with family and friends.
Das Urige
yields 3 breads
Levain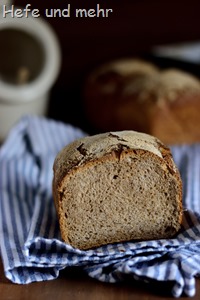 150g flour Type 1050
150g Water
15g sourdough
Rye sourdough
100g Water
100g Rye flour Type 1150
5g sourdough
Dough
Rye sourdough
Levain
750g flour Type 1050
470g Water
5g roasted rye malt
8g physllium husk
20g Butter
20g Salt
10g fresh yeast
The night before mix the ingredients for levain and rye sourdough and let rise for 16 hours at 24°C.
The next afternoon mix all ingredients for the dough and knead 5 min at slow speed, then turn to fast speed and knead to full gluten development (about. 8 –10 min).
Let the dough rise over night in the fridge (about 16 hours).
Now divide the dough in six portions of 300g each. Let the dough relax for 10 min, then form to round breads. Place two breads seam side up in each baking pan (for 750g).
Proof for 1.5 hours.
Preheat the oven to 250°C and bake the breads for 10 min with steam. Then release the steam and reduce the temperature to 220°C zurückdrehen. Bake for another 45 min.