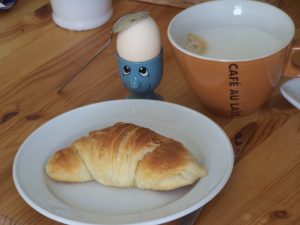 My Boyfrind is always very happy, when I bake pain au chocolate for breakfast on sunday. I like crossinats more, but he loves them, but – and that's important- they have to contain TWO bars of chocolate. He looked very suspiciously at the recipe for pain au chocolate in my copy of Bertinets "Crust" and declared it as wrong, because in this recipe the pain contains only ONE chocolatebar!
Steve of Bread cetera use two chocolatebars, too and his technique to roll them into the dough seems better then the one I used untill now. I always had the problem, that some of the pain au chocolate unfold in the oven again, so I used his methode this time.
When I roll the butter into the dough, I normally give the dough one hour to rest in the fridge between two rounds of rolling and folding, but this time I had some time pressure, so I decided to follow the recipe of "Crust" and reduce it to half an hour.
Not a good idea! Although I get a light interior, it was not so nice layered like normal. Next time, I will use the one hour cooling periode between the rolling again!
Croissants and Pain au chocolate
yield 6 Pain au chocolate and 6 Croissants
Teig:
500g flour(Type 550)
15g yeast
10g salt
1 egg
125g milk
125g water
50g sugar
filling for Pain au chocolate:
100g chocolate, 70 % cacao, cut into 12 bars
Put flour, yeast, milk, water, salt, egg and sugar into the bowl of the food procesor and kneat for 8 min. Form to a ball and put in a bowl.Cut a cross into the sureface and cover the bowl with foil. Cool at least for 2 hours, better over night.
Roll the butter between two foils to a plate with a thickness of 1 cm.
Roll the dough to a square with an edge length of 30 cm x 45 cm and put the butterplate in the middle. Fold the doug over the butter and roll again.  Fold the dough in thirds and cool in the fridge for at least 30 min (better 1 hour)
Repeat the rolling, folding and cooling Steps for another two times.
After the last resting periode, roll the dough to an 40 cm x 45 cm rectangle
Cut the dough for the pain au chocolate into 6 rectangles of 10cm x 15 cm.  Roll the first chocolate bar into the dough, so that the bar is covered with dough, then lay next to the rolled-up bar and roll up the rest of the dough.
For the Crossiants cut the Rest to 6 triangle. Roll them up from the  small side.
Rest for 2 hours at room temperatur.
Eggwash befor baking, bake at 175°C for  30 min.