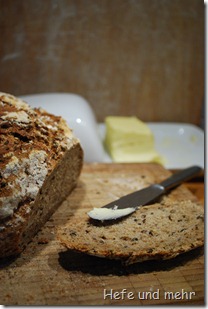 Hemp is normaly associated with drugs. But hemp fibres was always used for making ropes and tissue and it nutritious seed were eaten, too. The seeds are packed with essential fatty acids, all eight essential amino acids, vitamin E, vitamin B, potassium, calcium, magnesium and iron. And the hemp seeds you can buy at whole food stores are as good as THC free (This is written on my package, too). So its a healthy ingredients for a healty bread.
Because I am still cleaning up my pantry, I also add sesame and flax seeds and replace a part of the flour with breadcrumbs. I use to dry single slices of bread which are getting steal and later grind them into breadcrumbs. So adding Breadcrumb into a new bread is some kind of bread recycling! 😉
The bread is delicious: It has a slight nut taste and it is so crunchy because of the seeds. Hemp seeds stay crunchy even in bread. I prefer to eat it with some butter and fleur de sel, thats is enough to underline its taste!
Hemp Bread
yield two bread of abaout 1,1 kg each
Pâte fermentée
250g flour Type 550
175g water
2g yeast
5g salt
Dough
whole Pâte fermentée
800g wheat, fresh ground
200g bread crumbs (can be replaced with flour)
800g water
10g distaltic malt
5g yeast
20g salt
Seeds
50g sesame
50g flax seeds
100g hemp seeds
Mix all ingredients for the Pâte fermente and proof it for 2 hour at room temperature. Then put the dough into the fridge for 12 hours.
The next morning: Toast the seeds, then set them aside to cool down . Mix all incredients for the dough  and knead it for about 3 min at low speed, then 6 min on high speed untill medium gluten development. Turn back to low speed and knead the seeds into the dough.
Ferment for 2,5 hours. Fold the dough three times during this time.
Form two breads and place them in brotforms.
Proof for 1 hour.
In the meantime heat the baking stone at 250°C.
Bake the breads for 45min with steam.
[tab:END]
Wie jede Woche sende ich diesen Beitrag zu Susans wöchentlichen Yeastspotting. Das ist ein wöchentlicher Schaukasten von allem, das mit Hefe gebacken werden kann und bringt mir immer viele Inspirationen.