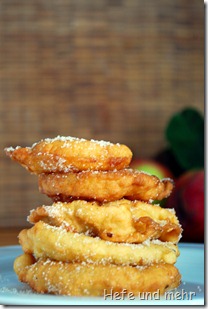 We still have plenty of apples so there will be a lot of recipes with apple in the next weeks for sure. We finished this years apple harvest. We picked all apples we could reach with ladder and apple picker, but there are still apples left on the highest branches.
Because we picked about 100kg apples this time we brought most of it to our local cider mill. There you can trade your apples for juice. For 100kg apples you get about 12 bottles apple juice.
But the most beautiful apples we place in baskets and store them in the attic. They will keep at least for a month or so, but this is a sort that can not stored for month like others. So eating and preserving apples is the order of the day.
And when we finished the apples there are still 50kg quinces waiting in my parents garage. But quinces keep longer, so I am still concentrating on apples.
The good thing is that the hot weeks in the summer made the apple delicious sweet. Most years they are quit sour and better used for cooking and baking than for eating raw, but this year even I like them on their own as a snack. But for todays lunch I used them for a swabian dish: Apfelküchle.
Apfelküchle
dough:
250g flour (Type 550)
2 eggs
250g milk
1 Pinch Salt
20g salt
also needed:
4 big apples
oil for frying
100g sugar mixed with 1/2 Tsp cinnamon
Mix flour with eggs, milk, salt and sugar. Rest for 20 min. In the meantime peel the apples and remove the core with an apple corer. Slice in rings of 0,5 cm. Fill a pan with about 1cm oil and heat to 160°C. Dip apple slices into the dough and fry them from both sides. After frying lay them on paper towels to remove excess oil. Now turn the "Küchle" in the sugar-cinneamon mixture and serve while still hot.