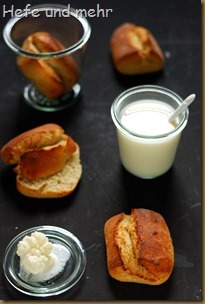 I own milk kefir grains since some months. In such a kefir grain you can find a lot of different lactic acid bacteria and yeast and making homemade kefir is even more easy then making yoghurt. You just have to put the grains into milk and leave them for about 1 day. It is a fresh, slightly sparkling refreshment – especially during summer – and is good for health, too.
Like always I ended at some point whisking to  put this milk product into a bread dough. And so I bake delicious kefir buns this weekend. I made a no-knead version, it just involves mixing the dough and let it rise over night. The next morning I rolled the dough into a long band, rolled it up into a long log and cut it into pieces. That is way faster then rolling each part up alone.
I baked them seamside up and they crack open very nicely along the seam during baking. They have a rather soft crust and moist crumb similar to my favourite Yoghurt rolls. Some Emmer flour gives the rolls a nutty flavour and the kefir adds a certain freshness to the buns.