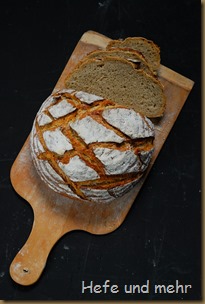 Vanessa asked for beginner frindly recipes and so reminded me that it s about time to post such another beginner recipe . And so I started to create a recipe which can baked without a lot equipment. And that I could use up the potato flakes which I had in the cupboard since christmas is a bonus point!
Potato flakes are great for beginner breads because they can bind a lot of water so the bread will be moist without struggling with sticky dough. You can either order them online or use organic instant mashed potatoes which contains mainly potato flakes plus salt and some spices (I used the one from Alnatura).
For some extra flavour I added a Pâte Fermentée and a stale bread soaker made from toasted stale bread. This adds a lot of roasting flavour to the bread.