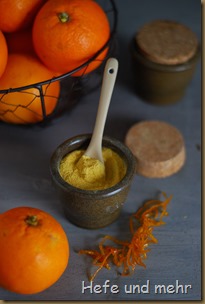 Since quiet some time I want to make Orange powder, which Bushcook published at chefkoch.de. Before I tested the powder I tend to dry orange zest during the winter and grinded them in the mortar when needed. But now I know the orange powder and I have to tell you: Forget about simple dried orange peel. The orange powder is way better. I know that it is more complicated but the flavour so much more intense due to the cooking before drying the zests.
Because we buy mostly organic orange I had a lot of material for tweaking the recipe. Nowadays I do not peel them anymore but use a zester. And if I do not want to make the powder directly I place the zests in the freezer until I have time to proceed. I dry the zests after baking bread on the still warm bread baking stone. This reduces the amount of energy needed for the powder.
Orange powder
4 organic oranges
30g sugar
125g water
Zest the oranges. Bring water and sugar to boil, add the zests and simmer for about 10 min until the water is nearly completly evaporated and a thick syrup covers the zests.
Place them on a plate and put them on the still warm  (about 80°C) bread baking stone (alternatively dry them at 65°C on convection mode for about 3 hours) and let them dry until they are not sticky anymore. Grind to a fine powder in a food processor.