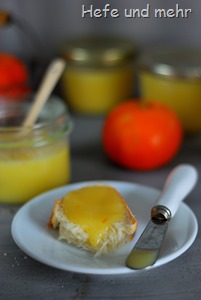 Two Kilogram of bitter oranges found their way into my kitchen last week. Not for making marmelade – there I prefer the sweet variant – but for making candid orange peel! But for making candid orange peel I needed to juice all of them. And I was suprised about the great flavour of the juice, combined with a clear tartness. And there was no trace of bitter flavour.
But what should I do with the delicious juice? A bitter orange curd, of course! I did a big batch as I had enough juice which had to be used. Two of the glasses I gave to dear friends – the rest I kept for myself. Together with my favourite braid this makes a perfect breakfast on sunday!
Bitter orange curd
yields 4 glasses
300g Bitter orange juice
600g sugar
200g Butter
5 egg yolk
2 eggs
grated peel of 1/2 Bitter orange
Heat Bitter orange juice with sugar and butter, until the butter melts. Mix egg yolk and egg and pour it through a sieve into the juice mixture. While stirring constantly heat the mixture until it thickens. Fill into glasses directly and keep them into the fridge until use.