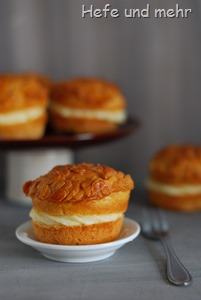 "Bienenstich" is a traditional german cake and its name literally means "bee sting". For me it is a classical cake to serve on Sundays together with some coffee. When my parents visited us last sunday, I decided to make some muffin sized little Bienstich. Their dough is a "sibling" of my actual favourite braid, but in contrast to the original recipe it contains more cream and no butter. For a relaxed baking I let them proof overnight in a muffinpan in the fridge. And due to the fact that my kitchen machine kneads much better when using 500g flour,  I doubled the amount of dough and made a little braid for breakfast with the second half.
The only little disadvantage is the height of the muffin which makes it challenging to eat it. The easiest way is to split it in two halves. Then it is very easy to enjoy this delicious cake!
Bienenstich Muffins
yields 12 Muffins
Sweet Starter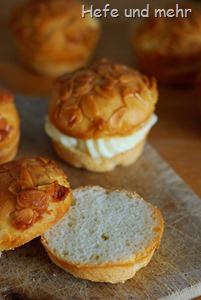 Dough
Sweet Starter (or alternative a Biga, recipe below)
210g flour Type 550
100g cream
25g milk
30g sugar
20g egg yolk (of 1 egg size M)
4g fresh yeast
2g Salt
grated peel of 1/4 Orange
almond-honey-crust
20g Honey
40g sugar
35g cream
15g Butter
75g sliced almonds
10g flour type 550
Vanilla custard
250g Milk
1/2 Vanilla bean
2g Agar
1 egg (55g)
20g starch
20g sugar
125g cream
Mix the ingredients of the sweet starter and let it rise for 3-4 hours at 30°C.
Knead all ingredients except the sugar for 5 min at slow speed. Then knead 7 min at fast speed. Now add the sugar in small increments and knead until the sugar is incooperated before adding the next sugar.  Knead to full gluten development.
Let rise for one hour at room temperature.
Divide into 12 pieces of about 40g each. Form to balls and place them in a greased muffin pan. Let them rest for 10 min to relax, then press them flat.
Let them rise over night in the fridge.
The next morning heat the oven to 180°C and prepare the almond-honey-crust: Cook honey, cream, sugar and flour until the mixture thickens. Stir in the sliced almonds. Let cool down, then spread the almond-honey crust over the muffins and bake them for 18-20 min with steam.
Let cool down and slice into halves.
Now prepare the filling: Bring 200g Milk, pulp of a vanilla bean and agar to boil for 2 min. In the meantime mix egg yolks, starch and the remaining milk. Stir this mixture into the boiling milk and keep stirring until the mixture thickens. Remove the pastry cream from the heat, cover with clingfilm and let cool down.
Whip the cream, then stir the pastry cream until smooth and fold in the cream. Pipe the filling with a pasty bag on the bottom half and place carefully the upper half on top.
Cool in the fridge until serving.
Tip: If you want to use a biga instead of a sweet starter, mix 90g flour Type 550, 45g water and 1g of fresh yeast. Let the biga ferment in the fridge for at least 16 hours.