I asked at the last Bread baking course post if you have special breads you would like to bake. And Uschi then asked for recipe for "Salzstangerl". These are long rolls sprinkled with salt and caraway seeds and they can be found mainly in Austria. And as I planed to bake the next bread in our course with Pâte Fermentée as preferment these rolls fitted very well in my plans for the weekend.
The Pâte Fermentée contains flour, yeast, salt and water. It can be either a part of a bread dough which is kept in the fridge (that's why some people call it "Old dough") or it can be mixed and fermented as a normal prefermt (what I do most of the time). It adds a part of full develope gluten network to the dough which helps to improves the gluten structure. The flavour notes are complex, a little bit nutty and only slightly sour.
The complex flavour goes well together with the flavour of the caraways seeds on top of the Salzstangerl. Their nice shape is obtained by rolling the dough first in a long oval and the rolling them up tightly. It is crucial to allow the dough to rest in between so the dough can relax and can be stretched without tearing. And then you will get the beautiful rolls!
Salzstangerl
yields 9 Salzstangerl
Pâte Fermentée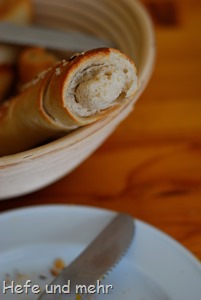 150g flour Type 550
105g Water
2g Salz
1g fresh yeast
Dough
Pâte Fermentée
350g flour Type 550
50g whole rye four
225g Water
9g fresh yeast
20g Butter
10g Salt
15g Honey or Malt
Topping
coarse Salt
caraway seeds
Mix all ingredients for the Pâte Fermentée and proof it for 1 hour at room temperature. Then put the dough into the fridge for at least 12 hours.
Knead all ingredients for the dough for 10 min by hand. The dough should be now soft, but not sticky.
Let the dough rise for 1 hour at room temperature or over night in the fridge.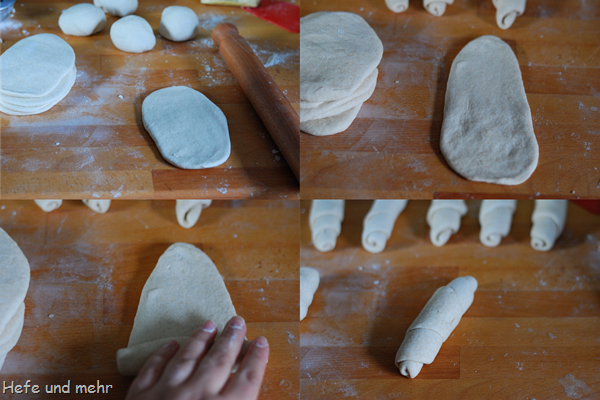 Divide the dough into pieces of 100g each and form them to light balls. Rest them for 10 min. Flatten the pieces to thin ovals of 20 cm. Let them rest for 10 min then stretch them carfully and rolls them tightly into logs. Place them on a paper lined baking tray and moisten the sureface of the rolls with some water and sprinkle them with caraway seeds and coarse salt.
Proof for 30 min.In the meantime heat the oven to 250°C.
Bake the rolls at 250°C for 20-25min with steam. At the last 5 min release the steam and turn to convection mode in order to enhance a crisp crust.