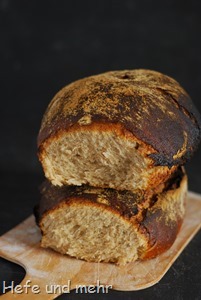 There are a lot of whishes' for recipes for the bread baking course: the swabian "genetzes" Bread, Baguette, Bread with heirloom grains, yeasted cake, Westphalian Farmer Loaf, Sourdough and Sourdough breads, Salzstangerl, Bagel and Basler Brot.  And there are still my personal wishes, a whole grain bread and a multi grain bread. We are not running out of recipes or ideas 🙂
Today I would like to start with the Basler Brot. It is one of most famous Swiss breads, and stems – as the name suggested – from Basel. It has a very crisp crust and a soft crumb. It is a pure wheat bread is normally baked with the Swiss "Ruchmehl". This flour is hard to get in Germany, and so I did a variant using Flour Type 550 and Whole wheat flour.  To increase the amount of water while keeping the dough easy to handle I added a hot soaker. This helps to create a soft crumb. A little bit of butter helps here, too.
To make sure that the crust is crisp we use the technic of "double baking".Here the bread is baked a second time after cooling down for at least 30 min. This makes the crust very aromatic and crisp.