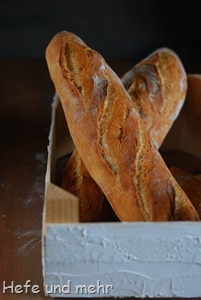 Another wish for the Bread Baking Course was Baguette. And Baguette dough is a simple dough: You need just flour, water, yeast and salt.
But when it comes to forming and slashing, it gets way more complicated. Only one thing can help with this: Practice! For slashing you actually don't have to even bake baguette, one can start practicing with paper and pen! As PIP onces wrote: "If you can draw them, you can slash them!" And so I made two practice sheets for you. One with reference lines and one without. You can print them and start practising right away. Try to draw the slashes on the "Paper baguette" in fluent movements without stopping while drawing a slash. Repeat this until you feel comfortable with drawing the slashes, then try it with the real one. And other ways then the traditional cuts are possible as well. In France I saw Baguettes slashed lengthwise as well!
Another thing needed for good baguettes is time! The preferment needs patience as it has to ferment at least 24 hours, but longer is better in this case. But then you are rewarded with an open crumb and a gorgeous flavour. I baked the baguettes as side dish for our supper and then caught myself thinking about the baguette as main course instead because the flavour was so great with its malty and nutty nuances.
Baguette with Pâte Fermentée
yields 3 Baguette
Pâte Fermentée
250g flour Type 550
175g Water
2g fresh yeast
5g Salt
Dough
Mix all ingredients for the Pâte Fermentée and let it rise for 1 hour at room temperature. Then put the dough into the fridge for at least 24 hours (up to a week).
Mix all ingredients for the dough  and let it rest for 10 min (autolysis), then knead for 5 min by hand.  Let the dough rest for 20 min, then fold it from the outside of bowl into the middle for three or four times. Let rest for another 20 min, then fold the dough again. Let the dough rise again. Now fold the dough for a third time in the middle of the bowl and let it ferment for 20 min.

Dived the dough into three equal pieces and roll each piece into a log. Let it rest for 15 min.

Now flatten the preshape baguette. Fold the dough from the long side into the middle and press it gently  together, then fold  it over again (see picture above). Roll it gently into baguettes of 30 cm and proof them  seamside up in the folds of a  floured tea towl (=couche) for 35 min.

In the meantime preheat the oven with a baking tray to 250°C.
With the help of the tea towel transfer the Baguettes on a bread peel or  a (wooden) cutting board (s. pictures above): Place to Peel/ cutting board next to the baguette and flip it over with the help of the towel.  Slash with a very sharp knife (e.g. tomato knife) four times and transfer the loaves on the hot baking tray. Bake for 20 – 22 min at 250°C with steam, until the crust is golden brown.