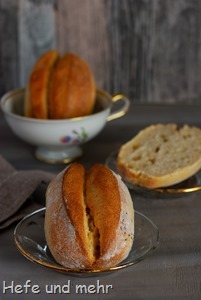 Some weeks ago a reader asked me if it is possible to bake pure spelt rolls with sourdough. The reason for this question is a histamine intolerance and so I thought directly of using my sweet starter, as the sweet starter fits well in the "shortly riped" scheme. I feeded a part of my starter four times with spelt flour which reduces the wheat in the starter to 0,26%. If you want a pure spelt starter, you can start a starter from a spelt sourdough and some spelt flour as well.
To avoid a dry crumb (what can happen with spelt so easily) I added once again a hot soaker. Some egg yolk and fat makes the crumb more fluffy and the malt helps to deepen the flavour. But using egg yolk and malt is not necessary, if you can't eat one or the other. Just replace the egg yolk with water. The crumb will be a little bit more dense but the rolls will be still fine. And if you are looking for wheat free recipes, there is a new tag for you: wheat free  🙂
Spelt Rolls with Sweet Starter
yields 10 rolls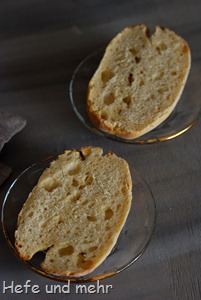 Sweet Starter
Soaker
100g Spelt flour Type 630
250g boiling Water
Dough
Sweet Starter
Soaker
200g Spelt flour Type 630
(optional: 10g Malt )
30g Butter or Margarine
15g egg yolk (replace with water, if needed)
11g Salt
Mix the ingredients of the sweet starter and let it rise until the volume doubled (2-4 hours) at 30°C.
Mix flour and boiling water and let cool for for at least one hour
Now knead all ingredients 8 min at the slowest speed .
Let rise for 2 hours at 25°C.
Preheat the oven with Baking stone to 250°C.
Now divide the dough into 90g portions. First form them to round balls, then turn them with the seam side down and roll it to a long shape (10 cm long). Use a dough scrapper to cut them lengthwise. Cut them very deeply, about 4/5 through the roll. Lay the cut together once again and turn the rolls on the cut.
Proof for about 45 min.
Turn the rolls, so that the cut side face upside once again, and place in the oven. Bake with steam for about 18-20 min at 250°C. For really crisp rolls turn to convection mode during the last 5 min.
Tipp: If you want to bake the rolls with bakers yeast, make a biga the night before: Mix  250g Spelt flour Type 630, 125g Water und 2g yeast and let it rise in the fridge for about 16 hours. Add 5g yeast to the dough as well.