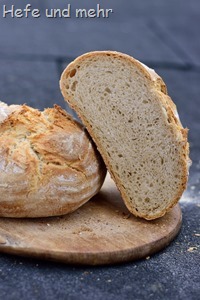 The second bread for my regional bread collection is one I know well: a crusty bread from the rhineland, called "Rheinisches Krustenbrot".
These crusty breads you can find in different parts of Germany and they vary in the amount of rye which is added to the dough. I know it as a mild bread with only 10% rye flour added. It is baked with seamside up which creates the typical rustic look of this bread. It has a light, fluffy crumb and – as the name suggested – a thick, crunchy crust.
I baked my version of this bread using two different sourdoughs: A rye sourdough which adds a hearty note to the flavour and which contains all of the rye in the formula, and a mild wheat sourdough which adds a joghurt like note to the taste of the bread.