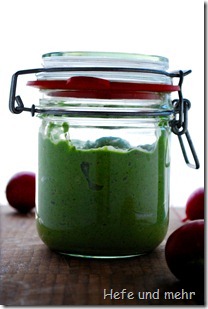 At this days, when the whole world wears a beautiful late spring time green. And I do not like to waste a tiny bit of the green leaves you can find in our kitchen. And when we had radish with nice green leaves in our weekly organic vegetable bag I feed our guinea pigs with the leaves or we eat the leaves ourself.
As a pesto radish leaves are an enrichment for our table and pasta with this pesto is a dish which is made quickly. That makes it to a favourite dish for dinner on long workdays.
Additionally to the leaves I add some radish to the pesto, too, to enhance the radish taste.
When you have leftover pesto you can add an oil layer above the pesto and keep it in the fridge for some days.
Radish Leaf Pesto
70g Radish leaves
3 radish
70g almonds
50g Parmesan
40g olive oil
2 garlic gloves
5g Salt
Wash the radish leaves and pat dry. Then place all ingredients in a food processor and mix until homogenous.