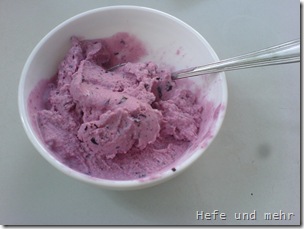 After the stracciatella icecream was not such a such a success last week, the "Gelateria  lab" get active again. We make Icecream with fruits of the season, that means that we decided on impulse in the supermarket, that the blueberries look very delicious, so we buy blueberries, citrons, buttermilk and cream, so we had every thing together to make a delicious icecream. We freeze the mixture with liquid nitrogen (again) but of course it is possible to use a ice machine for this purpose, too.
Who prefer a sweeter taste in icecream should increase the amount of sugar. The icecream is just slightly sweet, but I like that very much.
Blueberry-Citrone-Buttermilk-Ice
60g Sugar
Juice of 2 Citrones
300g Blueberries
500g Buttermilk
200g Cream
Puree blueberries with citrone juice, mix with sugar, buttermilk and cream untill the sugar dissolve. Freeze in the ice machine as written in the manual.
[tab:END]