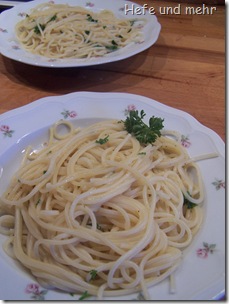 I love fast recipe, especially on days  when we work both long. Then its very good to have something for Dinner that is easy to prepare. I found the recipe for lemon spagetti in the current issue of Schrot & Korn where they publish a lot of recipe for easy "after work kitchen".
The recipe asked for tagliatelle but I found Spagetti instead. It was a perfect Dinner for a hot summer evening, light and refreshing. Comment of my boyfrind: "Unusal but good!"
lemon spaghetti with parsley
for 2 persons,
time: about 20 min
250g Spaghetti

juice and lemon peels of 2 lemons

3 El olive oil

1 Tl selfmade garlic oil (or some fresh garlic)

parsley

50g parmesan

salt

pepper
Cook the spaghetti like written on the package.
In the meantime mix lemon peel, juice, olive oil and garlic oil with chopped parsley and season with salt and pepper. Mix the sauce with spaghetti and top with grated parmesan.