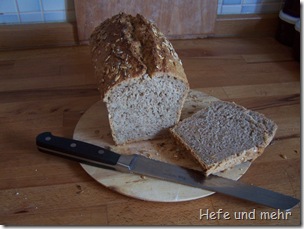 I planed to bake Bäcker Süpkes Pumpkinseedbread last weekend, but when I take out the pumpkinseed tin there was nearly no pumpkinseeds left. I think I know the person how eat the seeds (it is not so hard to guess in a two person household :-D). Because it was sunday, I had no change to get new pumpkin seeds.
Luckily I had enough sunflower seeds, so I bake a sunflower seed bread instead. I increased both the amount of sunflowerseeds and of sesame and left out the nutmeg (well, I forget it, to be honest) and use only wheat and no spelt.
At the end it is now a Sunflowerseed-curd cheese-bread inspired by Bäcker Süpke instead of his Pumpkinseed bread.
Sunflowerseed-curd cheese-bread
2 Brote von je 850g
Sourdough:
30 g Starter
153 g wheat, coarsley grounded
153 ml water
Soaker:
100 g wheat, coarsley grounded
170 g wheat, fine grounded
85 g rolled oats
85 g sunflower seeds
35g sesame
20 g Salt
460 ml water
Dough:
sourdough
soaker
340 g flour Typ 550
85 g curd cheese
8 g fresh yeast
Mix all incredients for the sourdough and ferment for 16 hours.
For the soaker: Toast sunflower seeds and sesame, then mix with the other incredients for the soaker and soak it for at least 3 hours.
Knead all incredients for the dough at slow speed for 10 min, then let the dough rest for 30 min, then knead again for 10 min. The dough has a soft consistence. Divide the dough, form two loaves and roll them in rolled oats, then place them in greased bread pans.
Bake at 250°C with steam for 5 min, then reduce the temperature to 180°C. Bake for another 55 min at this temperature.
Viele schöne Brote gibt es bei Susans wöchentlichem Yeastspotting zu bestaunen, ein Besuch lohnt sich immer!