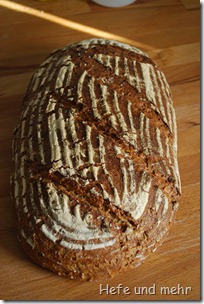 The last breads I bake had all a nicely soft crumb but for the next bread I longed for something hearty. So I wake my sourdough and bake a bread with wheat flour, spelt flour and oat grains.  I soaked the oat grains overnight so they get soft but not to soft.
The bread had nice very nice taste, but I overproof it a little bit, so it loose its form a little bit. It does not have an influence on the taste but I am a little bit disapoint because it looks not so nice.
Multigrain-Bread with soaked oat grains
yield 2 breads of 1100g
Poolish
280g water
280g flour Typ 550
1g fresh yeast
Soaker
200g oat grains
500g water, boiling
Dough
500g sourdough, 100% Hydration
whole Poolish
300g water
250g wheat, grinded
500g spelt, grinded
5g malt, disatic
25g Salt
2g fresh yeast (optional)
Mix water, flour and yeast for the poolish and ferment it overnight (12 to 16 hours).
Soak the oats overnight with boiling water.
Now mix the different flours with salt, water, yeast with poolish and the sourdough and rest it for 30 min (Autolysis).
Now knead 5 min ad the slowest speed and 5 min ad higher speed until medium gluten development. Then add the Soaker at slow speed, knead just as long as needed, so the gluten will not be destroyed.
Proof for 1 hours.
Divide the dough into two parts. Form two loafs and proof for 1,5 hours.
In the meantime heat the baking stone in the oven at 250°C.
Bake at 250C for 40 min with steam. (Spray water on the oven walls)
Viele schöne Brote kann man bei Susans wöchentlichen Yeastspotting sehen!