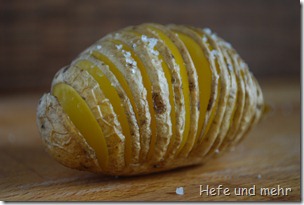 Wenn I saw these beautiful Potatoes at Tastespotting I fell in love on the first sight. She was so beautiful with her slices fanned out. So I checked the recipe and realized that this elegant Potato is easy to prepare, too! I decided to use the recipe on Good Mood Food, which was the simplest recipe. You need only some potatoes, butter, coarse sea salt, a knife and a wooden spoon.
A wooden spoon? That sounds strange but the spoon is the trick to make preparing so easy. Laying the spoon next to the potato prevents slicing through the potato.
Hasselback Potato
for 2 Servings
6 middle size Potatoes
some soft butter
coarse sea salt
a wooden Spoon
Scrub the potatoes. Then place the potato next to the wooden spoon, now cut it into 4 mm slices, so that the potato is still connected at the bottom. The spoon prevents slicing through the potato.
Place the potatoes into a greased form and bake at 200°C for 45 min.