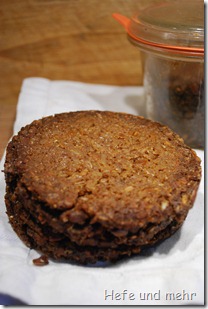 Pumpernickel is not a bread that I can eat, because it contains lots of rye. But my boyfriend love this kind of bread very much and I was always fascinated because this bread is more cooked in its own steam than baked for about 16 hours at low temperature. The enzymes in the rye break down the starch to sugar during baking because the dough is heated slowly. Part of this sugar caramelize and part of it reacts in the maillard reaction where amino acids react with reducing sugars. This reactions give the dark brown, nearly black colour and the slightly sweet taste to the bread.
Pumpernickel is baked in closed tins normally, but I used Weck glass jars. But you should only use mold form only because it is really hard to get the bread out of the tulip. I used both and had to struggle to get the bread out. But luckily jar, bread and even me survived this adventure without injuries 😉
This post goes to Susans Yeastspotting, her weekly showcase of yeast baked goods.
The recipe is easy to prepare, only the baking is time consuming. But the result is convincing: Dark nearly black colour, a little bit moist, like pumpernickel has to be. I modified the recipes I found in the web until I had a recipe that suits me. I reduced the amount of molasse and increase the amount of cooked rye berries. And then I add Sunflower seeds. Sunflower seeds are no typical ingredients for pumpernickel but they add some nice flavour to the bread.
And my boyfriend? He gave the best praise that a baker can get. He eats my pumpernickel the whole day: For breakfast, lunch and dinner and as a snack, too.
Pumpernickel
for 750 ml weck glass jars (mold form)
Sourdough:
350g whole rye flour
350g water
35g sourdough Starter
Soaker:
Dough:
all of the Soaker
all of the sourdough
375g finely cracked rye berries
375g coarsly cracked rye berries
100g molasse
300g water
200g sunflower seeds
25g Salt
Mix all ingredients for the sourdough and ferment at 25°C for 16 hours.
Next day boil rye berries in water for about 1 hour until they are tender. Drain well and let cool.
Mix all ingredients for the dough with a spoon. Rest for 30 min.
Now grease and flour the weck glass jars (use the mold form!) and fill with dough, put the lid (without the ring) and proof for 3 hours.
Preheat the oven to 160°C. Bake the closed jars for one hour at 160°C then reduce the heat to 120°C. Bake for another 15 hours (best over night).
30 min before End of baking place the sterilised ring between glass and lid and close it with the clamps. Let cool down after baking, then the clamps can be removed. The bread will keep fresh at least for one month.
This post goes to Susans Yeastspotting, her weekly showcase of yeast baked goods.