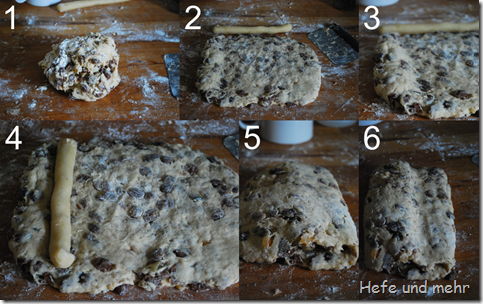 If you did not bake a christstollen until now, you should do it now because a good christstollen should be stored for four weeks before eating so that the aromas can melt into each other.
I baked my Christstollen recipe which I developed two years ago. It is still my favourite.
Two years ago I searched still for the best method to form the Stollen. Now I have found a method that worked good for me:
I flatten the dough to a rectangle of 30 cm x 45 cm. On short side I leave the rim thicker (Picture 2 and 3). I place the marzipan roll next to the thicker rim (Picture 4) and fold the dough over it (a little bit longer as the thicker rim) (Picture 5) and fold this remaing dough under the thick rim. This keeps the dough from unfolding.