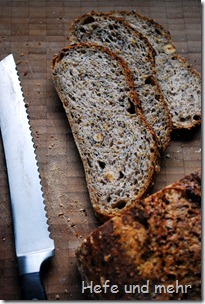 Some time ago I saw a delicious looking bread that Judd baked: Pain aux levain aux grains melanges. I'm in love with breads containing mixed seeds and so I put the bread on my todo list.
This week I managed to bake it, finally – but with some adjustments. The sunflower seeds vanished magically before I started to bake bread and so I replaced them with hazelnuts. I love hazelnuts in autumn breads so for me the change was not so hard. Normally I have grains for home milled whole grain flour and white flour with Type number 550 so I adjust the ratio between the different flour types, because the flours I used had different Type numbers compared with the ones that Judd use.
The bread I get is delicious, full of flavors of sourdough, nuts and seeds and with a moist crumb because of the soaker.
If you want to win my Advent calender you have still time to do enter your name here until today night (13. November 2011, 23.59 Uhr).
Pain aux Levain aux grains mélangés e noisettes
Sourdough (Levain)
60g Sourdough
125g flour Type 550
65g Water
Dough
250g Levain
580g flour Type 550
260g Wheat, freshly milled
60g rye, freshly milled
500g Water
20g Salt
5g fresh yeast
120g Sesame
200g Hazelnuts
Soaker
200g flax seeds
450g Water
Mix water, flour and yeast for the sourdough and ferment it overnight (about 12 hours).
For the soaker let the flax seeds soak overnight in water
Mix all ingredients except the soaker for the dough and let the mixture rest for 20 min (Autolysis) then knead for about 5 min at low speed, then 8 min on high speed until medium gluten development. Turn back to low speed and knead the soaker into the dough.
Ferment for 2 hours. Fold the dough one time during this time.
Form two breads and place them in brotforms.
Proof for 1,5 hour.
In the meantime heat the baking stone at 250°C. Turn the breads on peels and score before loading them into the oven.
Bake the breads for 45 min with steam.
I send this bread to Yeastspotting, Susans weekly showcase of yeast baked good, which this week is guest hosted at Tartine bread experiment.