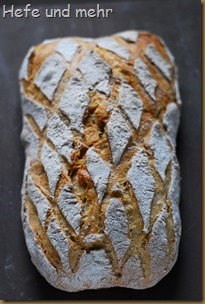 During our last vacation in france I fell in love with the flat, rustic looking Pain Pavé. Pavé means cobblestone and refers to the flat, rectangular shape of the breads. Most of the time they are cut crosswise or with a rhombical pattern.
My version of the Pavé is made with rye sourdough and a long, cold fermentation in the fridge. That helps, together with the folds of the dough, to develope an open crumb and a deep, complex flavour.
It is a bread which goes very well with a flavourful winter soup or very simple with only some goat brie!