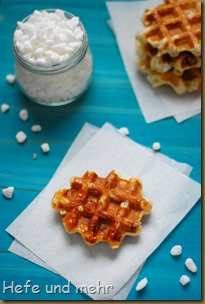 I feed my sweet starter at least once a week to ensure that it keeps it mild flavour and it strength. But what to do with the excess starter if there is no need for bread, baguette or Germknödel?
In this case waffles are always a good idea. And I have a soft spot for Gaufres de liège and so I changed my recipe to fit in sweet starter instead of yeast. But be aware that kneading egg and butter under the starter can be a little bit messy. If you want to keep clean hands, a mixer is maybe a better solution.
The waffles taste as good as the original ones, maybe even better due to the preferment. The only problem I face now is that I have to find a new waffle maker. The plastic of my cheap one started to break into pieces. So if you have any suggestions for a good waffle maker?