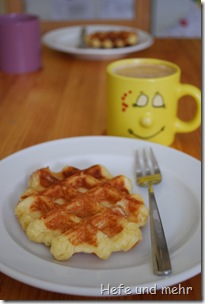 Is there anything more delicious then waffles to a cup of coffee? Normaly I bake "Bergische Waffeln", a round waffle consisting of five hearts which is very common here. But this time I thought about doing a dough with yeast and so I decided to bake Gaufres de Liège. They contain pearlsugar which caramalise during baking. We ate them once in belgium and they are so delicious.
For the dough you need a coarse pearl sugar, but this is not avialable in germany. But there were some sugar cubes from the streuselbatz I bake for Bread baking day left,  so I used them instead. The recipe I found asked for a huge amount of yeast, something I do not like. So I decrease the amount of yeast but allow the dough to rest longer instead and decrease the sugar amount, too.
Baking was very easy and they taste as good as I remeber!
Gaufres de Liège
for 10 waffles
375g flour type 550
165g milk
2 eggs
25g sugar
1 pinch salt
1 teaspoon vanilla extract
10g fresh yeast
150g butter
150g coarse pearl sugar or chopped sugar cubes
Mix all incredients aside from butter and pearl sugar  to a dough and ferment untill the volumen has doubled. Then knead butter into the dough in increments untill the butter is completely incooperated. Now mix in in the pearl sugar. Ferment for another 30 min. Head the waffle iron (for belgian waffles) and place some dough (about 80g) in the middle of the square.
Bake each waffle for about 3 min.
Dies ist mein Beitrag für das wöchentliche Yeastspotting von Susan von Wild Yeast!