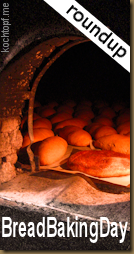 It is hard to believe but May is already gone and so it is time to round up the recipe for Bread Baking Day! I enjoyed your submissions very much, they show the whole spectrum of the word "ancient". There are recipes made with ancient grains like Kamut, Emmer and Einkorn, traditional recipes from France, German, Bulgaria and Italy, even a historical recipe which stems from Roman times was submitted. And you will find a bread from the "ancient" blog past was baked once again, too.
I hope you enjoyed digging into the past as much as I did and that you maybe take away some new (but ancient) ideas. I do for sure! Thank you so much for your submissions!
The next BBD will be hosted by Der Gourmet . He will tell us the new theme on 6th June!
And now please enjoy the round up of "Ancient" recipes: