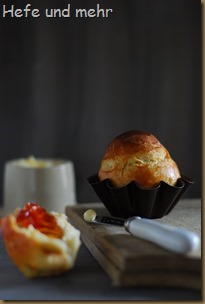 Since some weeks I have some niece little brioche forms sitting in my cupboard which are only waiting for being filled with a new recipe. This long weekend was the perfect time to try the idea of baking Brioche with sweet starter. This strong, not tangy sourdough adds a niece complexity to the dough while the big amounts of egg and butter yield a soft and fluffy crumb.
But this big amount of butter makes it necessary to use a kitchen machine for kneading. When the butter is added, the dough loose all of its strength and becomes soft and smeary. So soft and smeary that I had my doubts if I could knead it to good consistency. But during  intensive kneading with the kitchen machine the dough gains back its strength and after 15 min the gluten network was fully developed. But it is worth to find the patience to knead for such a long time because this will result in a fluffy crumb which can be torn into long fibres.
The only thing I will change the next time is that I would form the upper ball for the Brioche à tête a little bit smaller so that the head is easier to recognize.