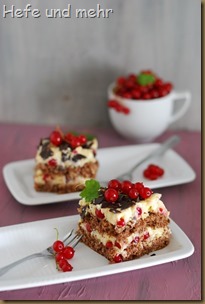 This year is a great year for berries. In my parents garden the red currants bushes bent down under the load of ripe berries. Two weeks ago I picked enough berries to cook enough red currant jelly for the coming year and it you could hardly see that I take any fruits. And so I picked another 2 kilogramm berries in betweeen two thunderstorms last Friday afternoon. The most of the currants are cleaned and froozen, the rest I used for baking a cake.
I found the recipe at Chili & Ciabatta, but due to the leftover in my baking drawer I changed the dough already a lot, adding grounded almonds and chocolate. And the for the vanilla creme I go for a different recipe because I do not use gelatine.
And even if the recipe is a different one in the end, the cake tastes fantastic. A sweet vanillacreme is balanced by the tarte red currants and with chocolate you can never do wronge!