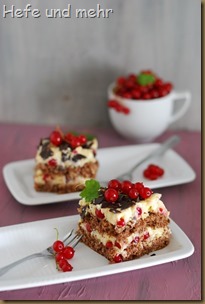 This year is a great year for berries. In my parents garden the red currants bushes bent down under the load of ripe berries. Two weeks ago I picked enough berries to cook enough red currant jelly for the coming year and it you could hardly see that I take any fruits. And so I picked another 2 kilogramm berries in betweeen two thunderstorms last Friday afternoon. The most of the currants are cleaned and froozen, the rest I used for baking a cake.
I found the recipe at Chili & Ciabatta, but due to the leftover in my baking drawer I changed the dough already a lot, adding grounded almonds and chocolate. And the for the vanilla creme I go for a different recipe because I do not use gelatine.
And even if the recipe is a different one in the end, the cake tastes fantastic. A sweet vanillacreme is balanced by the tarte red currants and with chocolate you can never do wronge!
Red Currant and Chocolate Cake
Chocolate Cake
4 Eggs
125g sugar
1 Pinch Salt
5g Baking powder
40g grounded almonds
50g grounded semi sweet chocolate
100g flour Type 405
10g cacao
Vanilla Cream
3g Agar
500g Milk
1 vanilla bean
30g starch
4 egg yolks
1 Pinch Salt
20g Water
100g sugar
2 egg white
250g red currants
Decoration
chocolate flakes
red currants
Cake base: Whip Eggs with sugar and salt until the sugar dissolved and the mixture is frothy and light yellow. Mix flour, baking powder, nuts and chocolate and fold it under.
Spread on a baking paper lined tray and bake for 14 min at 180°. Let cool completely.
Cream: Boil the milk with agar, salt, pulp of the vanilla bean and sugar. Mix the yolk with the starch and stir this into the boiling milk. Boil the mixture for around 2 min, stirring constantly,  then remove it from the heat, add the butter and stirr untill it is mixed completly. Pour the cream into a bowl and cover the surface with cling flim to prevent skin forming.
Now boil sugar and water untill its reach 121°C.  In the meantime whipping the egg white. When the sugarsyrup reach the temperature, slowly pour it into the egg white while whipping. Keep whipping until it cool down to 40°C.Now fold it into the custard, at least fold in the currants.
Cake Assambly: Cut the cake lengthwise. Spread half of the cream on one stripe, top with the second one and spread with the remaing cream. Sprinkle with cocolate flakes and cool in the fridge for at least 2 hours.
Cut into squares and decorate with red currants before serving.