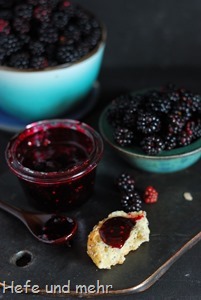 The sunny and hot days of the last week turns the first blackberries into dark and delicious treats. And so we went to pick berries early on Saturday morning . Natures plenty was very overwhelming and in little more then an hour we picked three kilogram. And because I read Christine Ferbers "Marmeladenbibel" we picked some red, unripe blackberries as well. The reason for this the fact that blackberries contain less pectin then red currants or blueberries. Adding some unripe fruits increase the pectin content because they contain much more pectin then ripe fruits. They add some acidity as well which support the gelling process as well.
The rest of the recipe is 100% me, as I does not like to macerate blackberries with sugar (as Madame Ferber suggest), because this turns the blackberries into hard, small pieces. And so I cook the jam similar to the red currant and raspberry jam. And after 20 min of simmering even the unripe fruits softens completely and I'm very happy with the delicious jam I got in the end.
Blackberry Jam (without gelling sugar)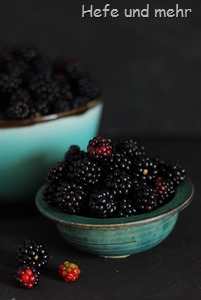 yields 6 small glasses
1 kg blackberries
50g unripe (red) blackberries
1kg sugar
Wash the berries and put them dripping wet in a big pot (at least 6l pot). Bring the berries to boil while stirring. As soon as the berries swim in their own juice, reduce the temperature and simmer the berries for about 20 min, stirring occasionally.
Add the sugar. Boil for 5 min, then test on a cold plate if it is gelling. Fill into pre-sterilized glasses. Put a lid on an let cool.
Tipp: Two weeks ago we picked the last wild raspberries and combined them with some very early blackberries. I cooked them the same way as described above, using 2/3 raspberries and 1/3 blackberries.