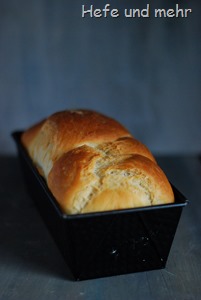 I do both rather seldom: Baking soft sandwich bread and baking during the week. Normally my bread baking day is at the weekend and so I need special circumstances to take the flour from the cupboard during a working week. But an tooth emergency leaded to a small oral surgery and subsequently to chewing problems. After three days of soups and purees I was longing for a really soft bread which is easy to chew.
The sweet starter is always great in such situations. Coming home from work I went straight to the kitchen and started the starter. Two hours later its volume already doubled and so I could already knead the dough. The dough contained some yeast (as I wanted to bake before going to bed) and a good portion of butter and a pinch of enzyme active malt. Both helps to make the crump tender. The good amount of butter as well as some sugar also leads to a good browning when toasted. But although untoasted the bread has good, slightly buttery flavour.
Butter toast
yields 2 Breads
Sweet Starter
Dough
Sweet Starter
750g flour Type 550
200g Milk
275g Water
55g Egg
50g sugar
5g enzyme aktive Malt (optional)
20g Salt
20g fresh yeast
150g Butter
Mix all ingredients for the feeding and  ferment for 3 hours at 30°C
Place all ingredients except the butter in the kitchen machine and knead 5 min at slowest speed, then around 10 min on fast speed until complete gluten development. Now add butter and knead for about 2 min until butter is complete incooperated.
Ferment for 1 hour.
Degase the dough and 6 equal parts. Roll each piece into a long thin oval, wet the sureface and roll into a log. Let rest for 10 min, then roll it again along the seam to an long, thin oval, fold the long sides into the middle and roll again tightly to a log. Elongate to strand which is one third longer then the baking pan. Braid each three strands into a braid.
Place each braid in a buttered pan (30 cm long).
Proof for 90 min.
Bake with steam at 175°C for about 55min.
Tip: If you want to use a biga instead of a sweet starter, mix 250 g flour Type 550, 125g water and 2g of fresh yeast. Let the biga ferment in the fridge for at least 16 hours.